We understand that there is significant pressure on LATAM to significantly increase the speed of transformation projects and - also - to ensure that the investment is translated into concrete improvements (KPIs).
"If the largest companies in the world present in Latin America need this help ... the others too!"
In this context, ETC has two lines of action: Willingness to Change and Technological Usability.
Availability for change and usability of technology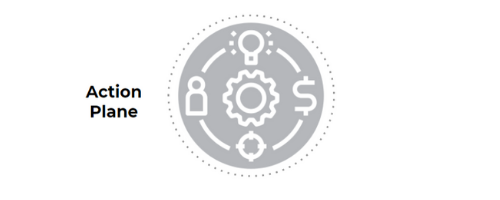 Implementation of New Operating Model in Supply Chain and Finance - 12 countries
Need to renew the technological platform due to incremental maintenance costs and end of support risks under a version to be discontinued. The creation of a new fiscal company also supported the business case for the decision. Develop a unique condominium in the Americas.
Implement SAP ECC 6.0 in all finance and supply chain processes, and OTM and SAP APO solutions. Cover 12 Latin American countries (8000 users, +20 plants, +100 sites) with a 3-year plan. Incorporate best practices.
Knowledge base developed: +1200 materials, +400 system simulations (materials in 3 languages).

Surveys with +1000 responses administered.
Networks of Change developed: 25 Directors + 90 managers participated actively.
Satisfaction level of business users in training received (1 to 4)
Restructuring Process Model: Logistics, Commercial and Financial - 12 countries
Opportunity to improve service quality, standardize and simplify processes, gain efficiencies, increase synergies and incorporate capabilities (IT) and best practices in processes. Scenario of increased sales volume.
Integrate in 2 Torres (Panama and Valinhos) the Logistics, Financial, Commercial (Order Management) operations, executing a General Plan of Change of Processes & People + implementation of new capacities (IT). There were 64 deployments over 15 months, affecting the operations of 12 LA countries (2000 users).
Deployments done without delay. KPI of stabilization processes defined and fulfilled
Training sessions and business monitoring planned and executed.
Knowledge bases developed: +400 materials (materials in 2 languages).
New team of 8 regional directors working in a coordinated way (constituted in 4 weeks)
Communications covering 5 capitals and +100 operational sites.
Change Networks developed: 8 Directors + 20 managers participated actively.